Professor Mark Lawler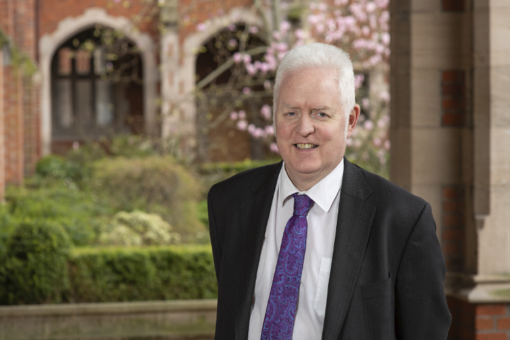 Mark is also Associate Pro-Vice-Chancellor, Professor of Digital Health, and Chair in Translational Cancer Genomics at Queen's University Belfast. He is an internationally renowned scientist, recognised by national/international awards including the Vander Molen Prize for Leukaemia Research, Ely Lilly Prize, St Luke's Medal for Cancer Research, Graves Medal for Medical Research and the prestigious 2018 European Health Award.
Mark is Associate Director of HDR Wales-Northern Ireland and UK lead for Cancer Data Research for HDRUK. In the wake of the Cambridge Analytica/Facebook scandal, Mark led a pan-European group, developing a roadmap to restore public trust in health data, published in Lancet Oncology.
Mark was co-chair of the Cancer Task Team of the Clinical Working Group of the Global Alliance for Genomics and Health and authored a blueprint for cancer data sharing (Nature Medicine) and a call-to-action for a Global Cancer Data Knowledge Network (New England Journal of Medicine).
Mark has a strong commitment to patient-centred research/care and to addressing cancer inequalities. He was the architect of the European Cancer Patient's Bill of Rights (BoR), a catalyst for change which he launched in the European Parliament on World Cancer Day 2014. The BoR was recently adopted by ECCO, the largest interdisciplinary cancer organisation in Europe and received the 2018 European Health Award, a prestigious award for partnerships that yield real health impact in Europe. Mark is leading the Lancet Oncology Groundshot Commission, a data-driven approach to maximise cancer research and its impact in Europe.