Along with the other Health Data Research UK specialist health data hubs, DATA-CAN has been at the forefront of the data research response to the COVID-19 emergency.
The research conducted by DATA-CAN has shown the COVID-19 emergency has had a significant impact on cancer patients and services.
DATA-CAN's research in response to COVID-19 emergency
Over the course of the UK lockdown between March and May 2020, DATA-CAN and the UCL Institute for Health Informatics collected and analysed 'real-time' data from UK cancer centres, covering over 3.5 million people. This data provided a valuable insight into the effects of the COVID-19 pandemic on cancer patients and cancer services.
The research found:
A decline in urgent referrals for cancer (70 per cent decrease) during the initial lockdown
A decline in chemotherapy attendances (40 per cent decrease) during the initial lockdown
By the end of May, these declines had only partially recovered.
Using these findings, the researchers estimated that the COVID-19 pandemic could directly and indirectly cause thousands of additional deaths in cancer patients – between 7,165 and 17,910 excess deaths.
The full research paper is available to access in BMJ Open.
What impact did the research have?
The research was originally published as a pre-print in April 2020. This was shared with the UK's four chief medical officers, and the Government's SAGE committee, and contributed to the decision to restore cancer services.
The data were also presented to both European Cancer Organisation and World Health Organisation Europe, resulting in DATA-CAN's scientific lead, Professor Mark Lawler, leading a European Cancer Organisation Special Network on COVID-19 and cancer. Prof Lawler launched a 7-point plan on how to tackle the issues faced by cancer services and patients at the European Cancer Summit. You can read about his proposals in detail here.
DATA-CAN's work on COVID-19 and cancer won the prestigious Royal College of Physicians Excellence in Patient Care Research Award in 2021.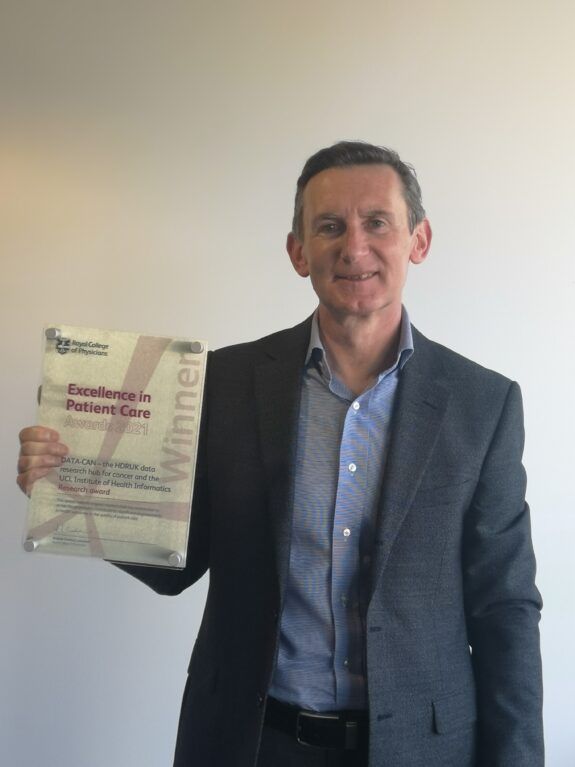 Our work has been critical in highlighting the adverse impact of COVID-19 on cancer services and cancer patients. The cancer intelligence that we generated contributed to the restoration of cancer services in the UK. The work has also had pan-European impact to mitigate the impact of COVID-19 on cancer across Europe. We need to ensure that cancer does not become the forgotten C in the fight against COVID-19.

Prof Mark Lawler, DATA-CAN's scientific lead
Read more here
DATA-CAN also contributed to the following research